Georgia Tech K12 STEM Connection

The Georgia Tech K-12 STEM Connection at Georgia Tech provides a method of viewing K-12 STEM & STEAM programs that are hosted by the various schools and departments on the Georgia Tech campus. Requests for help with K-12 STEM events and projects are available for teachers, school administrators, district superintendents, and Georgia Tech Faculty. Current there are no on-campus K12 STEAM programs.
Georgia Tech K-12 STEM Connection Newsletter
This newsletter highlights campus and community STEM outreach, K-12 learning resources, innovation, events, opportunities, and tools for K-12 STEM educators, administrators, and professionals. Subscribe to our newsletter here. Click here to view previous editions of our newsletter.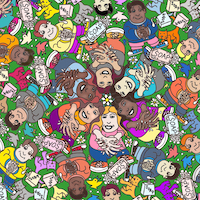 "STEAM from a Distance" is a campus and community collaboration for K-12 parents, students, and teachers. This collection of resources keeps kids engaged in educational Science, Technology, Engineering, the Arts, and Mathematics (STEAM) activities. Learn more >>
Guthman Musical Instrument Lesson Plans for K12 Teachers

Are your students ready to choose the "next" great instrument?
The Guthman Competition, sometimes described as the jam session of the future or the "X-Prize for music", features the next generation of music technologists sharing their latest and greatest instrument inventions. Normally, this competition is judged by professionals in the industry, however due to this year's virtual pivot – your students have the opportunity to help choose the winners. There is no prior knowledge needed, just the curiosity to see the most innovative instruments in music to date.